Wednesday, July 2, 2008
It was tearful. have a look
here
Posted by

Aurobindo
at 3:44 PM
0 comments


Links to this post
Tuesday, July 1, 2008
Science has the power to harness energy, allow human flight, help cure the sick, and explain much about the world. But as amazing and beneficial as science is, it cannot explain everything. Scientists may never know exactly how the universe began, or help to settle matters of faith. The same is true for the paranormal world. Though science can explain many strange phenomena, some mysteries remain to be solved--often because there is simply not enough information to reach a definitive conclusion. Some of these phenomena may one day be fully understood, as many things that were once mysterious or unexplained (such as the causes of disease) are now common knowledge.

1.The Taos Hum
Some residents and visitors in the small city of Taos, New Mexico, have for years been annoyed and puzzled by a mysterious and faint low-frequency hum in the desert air. Oddly, only about 2 percent of Taos residents report hearing the sound. Some believe it is caused by unusual acoustics; others suspect mass hysteria or some secret, sinister purpose. Whether described as a whir, hum, or buzz--and whether psychological, natural, or supernatural- -no one has yet been able to locate the sound's origin.
2. Bigfoot
For decades, large, hairy, manlike beasts called Bigfoot have occasionally been reported by eyewitnesses across America. Despite the thousands of Bigfoot that must exist for a breeding population, not a single body has been found. Not one has been killed by a hunter, struck dead by a speeding car, or even died of natural causes. In the absence of hard evidence like teeth or bones, support comes down to eyewitness sightings and ambiguous photos and films. Since it is logically impossible to prove a universal negative, science will never be able to prove that creatures like Bigfoot and the Loch Ness monster do not exist, and it is possible that these mysterious beasts lurk far from prying eyes.
3. Intuition
Whether we call it gut feelings, a "sixth sense," or something else, we have all experienced intuition at one time or another. Of course, gut feelings are often wrong (how many times during aircraft turbulence have you been "sure" your plane was going down?), but they do seem to be right much of the time. Psychologists note that people subconsciously pick up information about the world around us, leading us to seemingly sense or know information without knowing exactly how or why we know it. But cases of intuition are difficult to prove or study, and psychology may only be part of the answer.
4. Mysterious Disappearances
People disappear for various reasons. Most are runaways, some succumb to accident, a few are abducted or killed, but most are eventually found. Not so with the truly mysterious disappearances. From the crew of the Marie Celeste to Jimmy Hoffa, Amelia Earhart, and Natalee Holloway, some people seem to have vanished without a trace. When missing persons are found, it is always through police work, confession, or accident never by "psychic detectives"). But when the evidence is lacking and leads are lost, even police and forensic science can't always solve the crime.
5. Ghosts
From the Shakespeare play "MacBeth" to the NBC show "Medium," spirits of the dead have long made an appearance in our culture and folklore. Many people have reported seeing apparitions of both shadowy strangers and departed loved ones. Though definitive proof for the existence of ghosts remains elusive, sincere eyewitnesses continue to report seeing, photographing, and even communicating with ghosts. Ghost investigators hope to one day prove that the dead can contact the living, providing a final answer to the mystery.
6. Dejà vu
Dejà vu is a French phrase meaning "already seen," referring to the distinct, puzzling, and mysterious feeling of having experienced a specific set of circumstances before. A woman might walk into a building, for example, in a foreign country she'd never visited, and sense that the setting is eerily and intimately familiar. Some attribute dejà vu to psychic experiences or unbidden glimpses of previous lives. As with intuition (see #3), research into ,human psychology can offer more naturalistic explanations, but ultimately the cause and nature of the phenomenon itself remains a mystery.
7. UFOs
There is no doubt that UFOs (Unidentified Flying Objects) exist--many people see things in the skies that they cannot identify, ranging from aircraft to meteors. Whether or not any of those objects and lights are alien spacecraft is another matter entirely; given the fantastic distances and effort involved in just getting to Earth from across the universe, such a scenario seems unlikely. Still, while careful investigation has revealed known causes for most sighting reports, some UFO incidents will always remain unexplained.
8. Near-Death Experiences and Life After Death
People who were once near death have sometimes reported various mystical experiences (such as going into a tunnel and emerging in a light, being reunited with loved ones, a sense of peace, etc.) that may suggest an existence beyond the grave. While such experiences are profound, no one has returned with proof or verifiable information from "beyond the grave." Skeptics suggest that the experiences are explainable as natural and predictable hallucinations of a traumatized brain, yet there is no way to know with certainty what causes near-death experiences, or if they truly are visions of "the other side."
9. Psychic powers and ESP
Psychic powers and extra-sensory perception (ESP) rank among the top ten unexplained phenomena if for no other reason than that belief in them is so widespread. Many people believe that intuition (see #3) is a form of psychic power, a way of accessing arcane or special knowledge about the world or the future. Researchers have tested people who claim to have psychic powers, though the results under controlled scientific conditions have so far been negative or ambiguous. Some have argued that psychic powers cannot be tested, or for some reason diminish in the presence of skeptics or scientists. If this is true, science will never be able to prove or disprove the existence of psychic powers.
10. The Body/Mind Connection
Medical science is only beginning to understand the ways in which the mind influences the body. The placebo effect, for example, demonstrates that people can at times cause a relief in medical symptoms or suffering by believing the cures to be effective--whether they actually are or not. Using processes only poorly understood, the body's ability to heal itself is far more amazing than anything modern medicine could create.
Posted by

Aurobinda Mondal
at 2:08 PM
0 comments


Links to this post
In ascending order..



No. 14: INFOSYS TECHNOLOGIES


The Ratan Tata-led group is joined by India's second largest software exporter Infosys Technologies in the Top-50 league at 14th position.
Both Tata Group and Infosys have leapfrogged over 100 positions from their last year's ranks in the annual "Global 200: The World's Best Corporate Reputations" list, compiled by US-based Reputation Institute...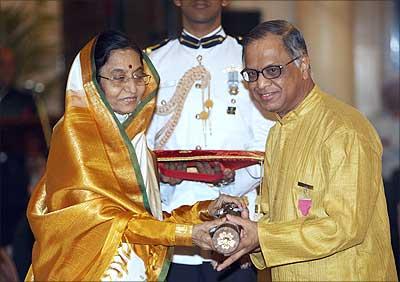 Image: Indian President Pratibha Patil presents the Padma Vibhushan award in the field of trade and industry to Infosys chief mentor Narayana Murthy (right) during the presentation of the 'Padma Awards 2008' at the President House in New Delhi on May 5

No. 10: MIGROS
Migros is one of Switzerland's largest supermarket chain. The Federation of Migros Cooperatives, which owns Migros chain of superstores, ranks number 10 in the world in terms of reputation.
The overall rankings are based on the companies' performance on seven dimensions --- workplace, citizenship, governance, products/services, innovation, leadership and performance.
The global leader Toyota has topped on four dimensions. Among Indian companies, Infosys is ranked fifth in citizenship and leadership categories and fourth in governance and products/services.
Tata Group has been ranked fifth in governance and third in leadership.
Reputation Institute is a private advisory firm specialising in corporate reputation management and Global Purse is its flagship research study conducted annual with about 60,000 consumers in 27 countries, from which it derives the rankings of world's most reputed companies.
The institute said that general public tends to rate makers of consumer products, computers and electronics well above the global mean.
"By contrast, communications companies and utilities largely anchor the bottom of the distributions. Companies operating in these sectors face an uphill battle in communicating with the general public," it noted.
Financial companies also face similar uphill battle, the report said, adding that pharma, conglomerate, raw materials, airline, food/tobacco and chemical industries hover around the middle of the ranks globally.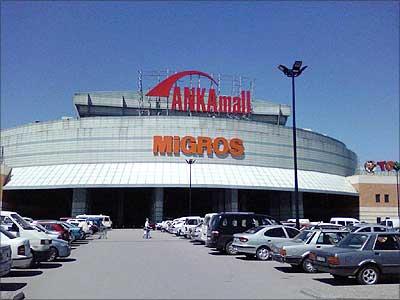 Image: A Migros supermart in Switzerland.

No. 9: GRUPO BIMBO SA
Grupo Bimbo is a giant Mexican food corporation. It might not be too well known in India, but is considered the world's ninth most reputable firm.
Reputation Institute said that all the 200 companies earned scores higher than the global mean of 64.2 points, but despite earnings better-than-global average, the companies ranked 51-200 have "significantly weaker reputations than the top tier companies."
The top-20 include six from the US, two each from India and Japan and one each from Brazil, Canada, China, Denmark, Italy, Mexico, Norway, Spain, Sweden and Switzerland.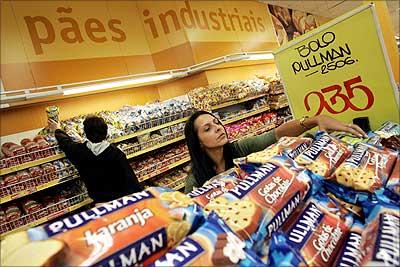 A customer grabs an industrialized cake of Pullman, a trademark of the Mexican baker products company Bimbo.

No. 8: NOVO NORDISK
Novo Nordisk is a Denmark's largest and one of the world's biggest manufacturer of pharmaceutical products. It is the world's eighth most reputable firm.
Globally, food and beverage giant PepsiCo, headed by a person of Indian origin Indra Nooyi, has been ranked 100th.
Tatas are ranked higher than companies like Walt Disney, Marks and Spencers, Xerox, Colgate-Palmolive, Sony, Honda, General Electric (GE), all of which are in the top-50.
The survey was conducted on 600 largest companies from 27 countries, out of which 200 were selected for the list. Toyota earned the highest ranking with a score of 86.53, followed by Google with 85.23 points.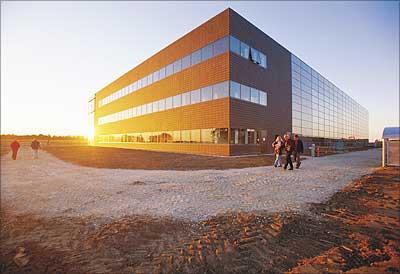 Image: A Novo Nordisk office building in Denmark.

No. 7: KRAFT FOODS
Kraft Foods Inc of the US is world's third largest food and beverage company. It is also the seventh most reputable firm on earth.
However, the highest jump in ranking has been seen by China's Faw Group (ranked 41st with an improvement of 178 spots), followed by Norway's Coop, Canada's Sobey's and Japan's AEON, all of which have gained over 100 spots..
Maruti, the country's biggest car maker, has been ranked at 77th, SBI at 107th, HLL (now renamed as HUL) at 131st, Hero Honda at 147th, LIC at 161st, Bajaj Auto at 169th, ONGC at 186th , M&M at 191s and IOC at 199th position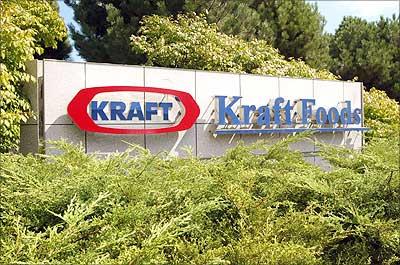 Image: A Kraft Foods sign is displayed near its corporate headquarters in Northfield, Illinois.

6 TH: TATA GROUP, 6TH IN THE WORLD
The Tata Group has emerged as the world's sixth most reputed company, joined by 10 others from India such as Infosys, Maruti and SBI in a list of Top-200 firms.
Tata Group is one of India's largest industrial conglomerates and runs more than 98 firms. Click here to find out which are the world's most reputable companies.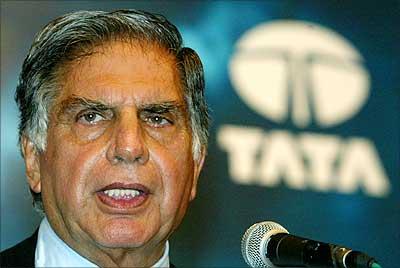 Image: Ratan Tata, chairman of Tata Group.

No. 5: JOHNSON & JOHNSON
Johnson & Johnson is a global pharmaceutical major. The American major is the world's fifth most reputable firm.
Both Tata and Infosys have gained over 100 spots each to join the top tier of global companies.
"India's Tata Group and Infosys Technologies saw their reputations increase by over 8 points in 2008, and catapulted over 100 spots in the ranking to join the top tier of global companies in 2008, in recognition of their growing role among the world's business elite," the report said.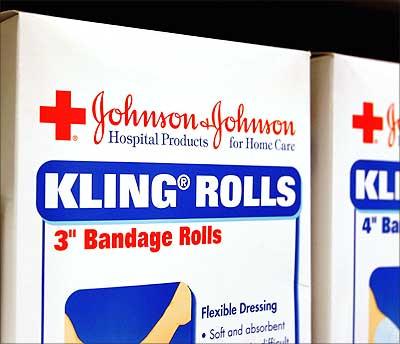 Image: A box of Johnson & Johnson Kling Rolls are displayed on a shelf at a Walgreens store in Chicago, Illinois.

No. 4: FERRERO
Ferrero is an Italian confectioner. It is the world's fourth most reputable business entity.
While releasing its latest Global Pulse report, Reputation Institute said that Tata Group and Air India have the strongest and weakest corporate reputations, respectively, among the companies from India.
Besides Tata and Infosys, other firms that made to the top 200 list include, Maruti Udyog (Suzuki) Ltd, State Bank of India, Hindustan Lever Ltd, Hero Honda Motors, Life Insurance Corp of India, Bajaj Auto, ONGC, Mahindra and Mahindra and Indian Oil Corp.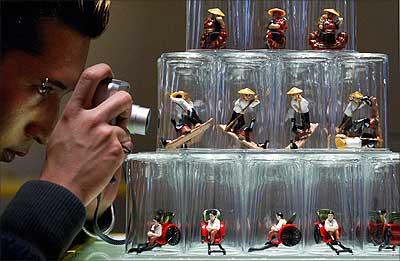 Image: A youth photographs the famous surprise-filled chocolate eggs by Italian confectioner Ferrero.

No. 3: IKEA
IKEA is a global home products retailer. It is the world's third most reputable firm. Earlier this year, the Swedish major trashed the Indian retail growth story saying that the country was not even 'an emerging market' ready for big retailers with players making more mistakes than success.
Meanwhile, the other Indian companies that were considered for the list, but failed to make the cut include the biggest private sector lender ICICI Bank, top private and public sector telecom firms Bharti Airtel and BSNL, IT giant Wipro, Birla group's Grasim Industries, tobacco-to-consumer goods conglomerate ITC as well as two state-run firms -- oil refining and marketing major BPCL and national carrier Air India Ltd.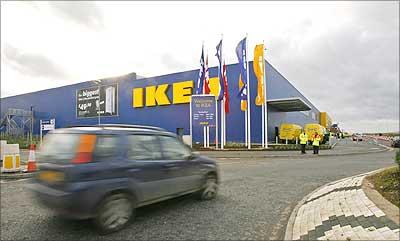 Image: Customers drive to a new IKEA store.

No. 2: GOOGLE
Google is an American Internet company and worldwide search giant, and is the world's second most reputable company.
Apart from Tata and Infosys, 9 other Indian firms, which were among 600 companies considered in a survey to prepare the list, could not make it to the final 200. These firms include Mukesh Ambani-led RIL, the country's biggest by revenue among private sector firms and overall largest in terms of market value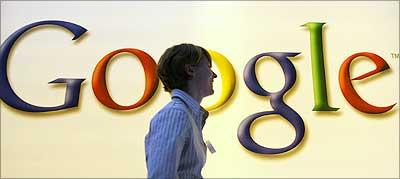 An employee walks past a Google logo at the Google stand at the Frankfurt Book Fair

No. 1: TOYOTA
The global list, which includes 10 other Indian companies, has been topped by Japanese auto maker Toyota. The Japanese giant is also the world's largets car manufacturer.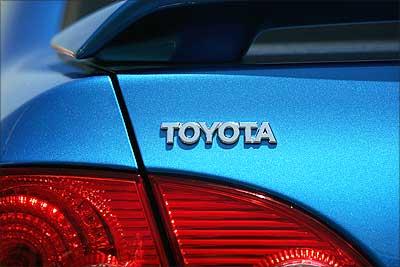 Image: The Toyota logo affixed to the back of a Toyota car.
Photograph: AFP/Getty Images
Posted by

Aurobinda Mondal
at 2:06 PM
0 comments


Links to this post
Monday, June 30, 2008
Bill Gates is one of the most influential and wealthiest people the world has ever seen. He's a ruthless businessman who built Microsoft into a software empire that would dominate office and home computing around the world.

With the Bill Gates era coming to an end at Microsoft, this is the perfect opportunity to look back and examine five preeminent lessons we have learned from the world's greatest computer geek.

Forbes named Gates as the world's richest person for 13 years straight. But all good things must come to an end. On June 27, he is leaving the company he co-founded more than 30 years ago to devote himself to philanthropic work at the Bill & Melinda Gates Foundation. Here's a look back at Gates' career and what lies ahead for him.

To be the Next Bill Gates: Follow this simple steps.
Start Early
Gates developed a fascination with computers at an early age and earned permission to be excused from middle school classes to study programming. "Even as a child, Gates was determined to do something spectacular and have fun along the way, entering the adult world prematurely with enough emotional stability to sustain his place and make his mark," writes career psychologist Siobhan Hamilton-Phillips in an e-mail to Forbes.com.
Develop a Clear Vision--and Stick to It
Gates started his first software company at age 17 and, from the beginning, dreamed of developing it into a corporate giant. "At a young age, Gates devoted time to practicing his skills and seeking more information about what fascinated him: approaching problems, testing ideas," says Andrea Kay, career consultant and author of Life's a Bitch and Then You Change Careers. "He's gifted, with incredible focus."
Break the Rules--Within Reason
School wasn't for Gates, and he knew it. He ditched Harvard at age 20 to found Microsoft. But before you make a dangerous career choice, make sure you've thought through the consequences. "It would be a mistake to generalize from Bill Gates' dropping out to infer that most aspiring entrepreneurs should drop out," San Francisco-based career coach Marty Nemko writes in an e-mail. "One needs Gates' unusual combination of Harvard-level intelligence and drive, ruthlessness masked by boyish charm, and--maybe the most important of all--luck."
Hire Your Friends
Gates' Microsoft cohorts have been with him from the very beginning, and the loyalty with which he's treated them has produced big returns. He met the co-founder of Microsoft, Paul Allen, when he was only 13, and Microsoft CEO Steve Ballmer is a friend since their days at Harvard. Strong personal relationships provide a level of trust that extends beyond the workplace, and they guarantee that your employees will perform at a high level for you.
Image Is Everything
Gates has successfully transformed himself from a rebel upstart to a corporate leader to a groomed philanthropist, and in doing so has dictated how the public perceives him. "As he's gotten older, he's been able to present himself as more mature and more corporate: His glasses got smaller, his hair got tamer," says Barbara Pachter, career coach and author of New Rules @ Work. "Now he's moving from that image to that of the elder statesman, so he's clearly able to develop his image based on how he wants people to look at him."
Don't Get Complacent
Despite becoming a billionaire at age 38, Gates didn't stop prioritizing innovation. That's because his desire to achieve goes beyond profit. He's obsessed with his industry and has a passion for developing new ideas. When choosing a career, make sure you have a genuine interest in what you're doing. Your performance will never cease to improve as a result, experts say, and the money will come later.
Know Yourself
Throughout his career, Gates has succeeded by pursuing his passions, from basic programming up to philanthropy. He's never settled for work he didn't believe in. "Readers should look at Gates as someone who has been successful as a total human being, not just as a businessman," says Alexandra Levit, career expert and author of How'd You Score That Gig? "This is, admittedly, a new definition for success, but one that's becoming increasingly important as the boundaries between the personal and the professional continue to blur."
10 Big Moments for him:
MITS Altair 8800
You get brownie points if you remember this microcomputer, released in 1975 and targeted to hobbyists. It ran Microsoft's first product: Altair BASIC.
Albuquerque Group
Check out this blast-from-the-past photo: It's the original 11 Microsoft employees at their office in Albuquerque, N.M., in 1978. Gates is sporting a toothy smile in the bottom left corner.
The Big Break
Co-founders Gates and Paul Allen surrounded by computers in 1981, shortly after signing a major contract with IBM to write software for its new line of PCs.

Microsoft Goes Public
The company went public in 1986, 11 years after Gates co-founded it with friend Paul Allen. On the first day of trading, Microsoft shares jumped $7 to $28. Gates owned about 45% of the company's stock, and this got him onto Forbes' list of the richest Americans for the first time, with a net worth of $315 million.

A Billionaire Is Born
Just a year after Microsoft went public, the company's stock soared six-fold and Gates became a billionaire. Forbes estimated his net worth at $1.25 billion in 1987.

Marries Melinda
Gates seemed to be enjoying the swinging bachelor life until he met Melinda French, who was a product manager at Microsoft. The two married in 1994 and now have three children: Jennifer, Rory and Phoebe. Melinda French Gates is the co-founder and co-chairman of the Bill & Melinda Gates Foundation, which focuses on world health issues. She is also a director of the Washington Post Co.

Windows 95
The hype and the money spent on the launch of this product was ginormous. Microsoft spent an estimated $300 million marketing it (and a couple more million for the rights to use the Rolling Stones' Start Me Up as its anthem). Microsoft spread itself everywhere for this one, even foisting its company colors on the Empire State Building.

Mr. Antitrust
In 1998, Gates took the stand to testify in the United States v. Microsoft antitrust trial. Plaintiffs alleged the company was a monopoly that abused its power to coerce PC makers into buying its operating system and using its Web browser--thereby crushing then-competitor Netscape. Gates denied the allegations.

'Pirates Of Silicon Valley'
This 1999 TV movie about the rivalry between Gates and Apple's Steve Jobs starred Anthony Michael Hall, the nerd from The Breakfast Club, as Gates. Noah Wiley of TV's never-ending series ER played Jobs. Both Gates and Jobs come off as psychopaths. Great fun--if you haven't seen it yet, add it to your Netflix queue.

Bill & Melinda Gates Foundation
Come July, Gates will work full time at the foundation he and his wife founded in 2000. The foundation, which has an endowment of $37 billion, helps organizations around the world to combat infectious diseases, reduce extreme poverty around the globe and improve high school education in the U.S. It works closely with the private sector. The Gateses have said they hope to spend down the foundation's resources during their lifetimes.
Bill Gates' Fortune Over The Years
1986
Net worth: $315 million
In March, Microsoft--the company Gates co-founded 11 years earlier--goes public. Gates retains about 45% of the company's stock. On the first day of trading, shares jump $7 above the offering price to $28 a share. Gates appears on Forbes' list of the richest Americans for the first time with a fortune of $315 million.
1987
Net worth: $1.25 billion
Growing excitement about the potential for the software industry catapults Microsoft stock higher. At one point, it's six times the value of the initial public offering price. Gates becomes a billionaire. Despite the wealth, he says he has no desire to retire: "I'm tied to the wheel."

1990
Net worth: $2.5 billion
Microsoft releases Windows 3.0. It's a hit. About 2 million copies are shipped by the end of the year and Microsoft becomes the first personal computer software company with sales to exceed $1 billion annually. At a conference, Gates describes his strategy as putting "Windows everywhere." Shares climb. Gates' fortune doubles from the previous year.

1995
Net worth: $14.8 billion
Bill Gates' fortune rises steadily throughout the early '90s along with Microsoft's stock price. In 1995, the company releases its Windows 95 operating system. Sells more than 1 million copies on its first four days on the market. Another accomplishment for Gates: His book, The Road Ahead, tops bestsellers lists.

1997
Net worth: $39.8 billion
Gates' net worth more than doubles from the previous year. He's now $19 billion richer than America's second-richest person, Warren Buffett. Gates begins to take it easy. He says in a Forbes column he's cutting down on his hours at the office: "Most days I don't work more than 12 hours. On weekends I rarely work more than eight hours."

1999
Net worth: $85 billion
The frenzy for tech stocks pushes Gates' net worth to $85 billion. His one-year increase is more than $25 billion or about $3 million per hour. Tells Forbes he can envision his second-in-command Steve Ballmer taking over in the next decade.
10 Predictions From Bill Gates
No. 1: Automatic News Filter
"Your nightly newscast will start at a time you determine and last exactly as long as you want it to. It will cover subjects selected by you or by a service that knows your interests."
Reality Check: Almost there. This exists on the Web for text stories in the form of RSS feeds. As video searching and tagging technology improves, Gates will be proved right.

No. 2: Digital Dollars
"If your son needs money, you might digitally slip five bucks from your wallet PC to his."
Reality Check: Maybe Gates' kids can do this. For the rest of us, PayPal comes close.

No. 3: It Fits!
"It is conceivable that within a few years, everyone will have measurements registered electronically so it will be easy to find out how well a ready-made item will fit, or to place a custom order."
Reality Check: If only this were true! Instead, Web shoppers have come to rely on generous return policies for ill-fitting items.
No. 4: Digital Documents
"Clients will expect their lawyers, dentists, accountants and other professionals to be able to schedule appointments and exchange documents electronically."
Reality Check: This is beginning to happen. Microsoft is pushing for digital documents with its Health Vault technology.
No. 5: Online Information Sharing
"If you want to buy a refrigerator, you will look for the electronic bulletin boards containing formal and informal reviews."
Reality Check: On the money. The Web has quickly evolved into a treasure trove of product reviews.

No. 6: E-Books
"Ultimately, incremental improvements in computer and screen technology will give us a lightweight, universal electronic book, or "e-book."
Reality Check: Yes, Amazon's Kindle

No. 7: Ad Targeting
"A middle-aged executive and her husband might see an advertisement for a retirement property at the beginning of an episode of Home Improvement, while the young couple next door might see a family vacation advertisement at the opening of the same show."
Reality Check: Getting close. Microsoft in June acquired Navic, which sells this exact type of TV ad-targeting technology. Google is working on similar technology.
No. 8: Online Voting
"Voters will be able to cast their ballots from home on their wallet PCs with less risk of miscounts or fraud."
Reality Check: Hanging chads plagued the 2000 presidential elections, but snafus and fraud fears have thwarted attempts to digitize voting systems.

No. 9: Multitasking Devices
"Your misplaced or stolen camera will send you a message telling [you] exactly where it is, even if it's in a different city. You'll be able to answer your apartment intercom from your office, or answer any mail from your home."
Reality Check: Flip it around--the things on which you send messages (phones) now come with cameras.

No. 10: Digital Free Ride
"We will have to be extremely careful to make sure the upcoming highway doesn't become a pirate's paradise."
Reality Check: The Internet has done just that, leaving software companies, including Microsoft, and Hollywood's finest with lots of nonpaying (though probably happy) customers.
THE THINGS WE CAN LEARN FROM HIM
5
. Geeks can be businessmen, too
Before Bill Gates, computer programmers were mostly considered to be a necessary evil for businesses. They were stereotyped as misanthropic weirdos that you stick in dark corners in the back office. However, Gates, became the most successful businessman on earth — if you judge business success by profits — and almost singlehandedly transformed the term "geek" from an insult to a badge of honor in the process.
4. You don't have to be first to win
Gates and Microsoft rarely got to the party first with new technologies and innovations, but they were simply better at bringing technology products to the masses than anyone else in the industry. Internet Explorer is the most famous example, but Microsoft Windows, Microsoft Word, and Microsoft Excel are also great examples. Microsoft was merely better at executing. It didn't hurt that Microsoft often had the most resources, but Gates and Co. showed over and over again that they knew how to best take advantage of those resources.
3. Computing will spread everywhere
In the 1980s when the computer was still mostly a novelty, Gates expressed his vision that there would one day be "a computer on every desk and in every home." That vision has nearly become a reality in the U.S. and it's in the process of coming to fruition across the globe. Plus, Gates' vision of the computing experience has continued to inspire the industry in general as well as Microsoft's product plans — from the smartphone to the Tablet PC to speech recognition to the touch-based interface.
2. Arrogance breeds failure
In the movie Pirates of Silicon Valley, the Bill Gates character says to Steve Ballmer, "Success is a menace. It fools smart people into thinking that they can't lose." He was referring to IBM and the fact that it let Microsoft sneak in and steal the thunder in the launch of the PC. A decade later, Microsoft's own success and arrogance led to its anti-trust defeat to the U.S. government. But Microsoft also remained humble and paranoid enough to always be on the lookout for the next small company that might do to it what it had done to IBM. Some of the most popular targets in its cross hairs: Apple, Netscape, Linux, and Google.
1. Software matters
The one message that Bill Gates spent his career reiterating was that software matters. Gates and Microsoft always believed in the magic of software to create amazing digital experiences. When "Micros-Soft" (as it was originally known) first launched in the 1970s, the computer business was all about the hardware. It was Gates and his vision of what people could do with computers that moved software to the center of the computing experience.
Whether or not you are a fan of Bill Gates, it is impossible to deny the impact he has made on the spread of computer technology across the planet during the past three decades. Since Friday was Gates' last day as a full-time Microsoft employee, this is the perfect time to look back at five of the most important lessons we've learned from the meteoric, tumultuous, and lucrative career of the world's most famous software engineer.
Best Of Luck.

Posted by

Aurobindo
at 10:23 PM
0 comments


Links to this post